Can a film save a life?


Or, perhaps a better question is, how many lives can a film save? Even now, even after Caitlin Jenner's highly public transition and a higher profile for transgender people, transgender and gender non-conforming people continue to struggle with identity and acceptance. Our stories need to be told to as many people as possible to let those in transition know that they are not alone. Through her stage play Exact Change, Christine Howey has transformed the attitudes and perspectives of trans- and cis-gender people alike—through the vulnerability, humor, and truth of her story. This film has the opportunity to touch exponentially more people's lives. It can go where Christine cannot, to colleges and universities, to community centers and high schools, into people's homes and across the globe.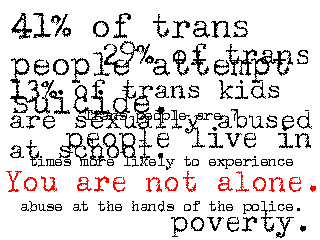 Where we are and where we need to go


We have completed principal photography and are now in the process of post-production. This includes editing the hours of footage, incorporating original music (by the fabulously talented Marge Adler), collecting and purchasing stock footage, and putting it all together as a finished feature-length film that can will premiere on the big screen at the Capitol Theatre on June 21st, 2017.
The entire production team—including director Scott Plate; the wonderfully collaborative
g2h Films
team of Andrew Gorell, Steven Hacker and Jeffrey Grover; and, of course, Christine herself—has worked diligently to arrive at the point we are now. Now that we are in the post-production phase, there are additional costs to complete the film. These elements are all indispensable to achieve a top-quality film.
New collaborators are coming on board with the talent and experience in these fields ... and we need to pay them!

Up until now, we have self-financed the production (with generous in-kind donations from supporters), but additional expenses are a fact of life. For that, we need your help.


We have some exciting perks for your support, including a chance to attend a post-premiere celebration party with Christine, Scott, and the filmmakers of g2h films. By supporting Exact Change at any level, you are becoming part of the movement to support and heal vulnerable people in the transgender community, while helping to change attitudes in the wider community and world.


Our Track Record


The stage version of Exact Change has been widely praised by critics and audience members alike:


"Ms. Howey is an engaging and sympathetic performer, and you cheer when she finally gets what she wants."


Alexis Soloski, New York Times
"Well before discovering the power of Christine Howey's versatile acting, I was blown away by her words: words that went straight to her story; words that went straight to my heart... erupting from her lips in an effortless stream of fine-tuned poetry."


Andrew Rothkin, NY Theater Now
" 'Tour de force' doesn't do justice to Howey's chronicle of the struggles to transition from Dick, who she was born as in 1945, to Christine in 1990 after sex reassignment surgery. Howey electrified the theater space in the West Village. All on her own, she created a cacophony of different characters and their voices, so explosive that it almost felt like the noise was pressing against the walls of the venue."


Emily Shire, The Daily Beast
Cleveland-based film company
g2h Films
is handling not only the technical and logistical elements of producing the film, but has walked hand in hand with Christine and Scott to bring together 20 co-sponsors for the
Premiere
on June 21st. For more information and to buy tickets,
visit our box office
.
Risks & Challenges


If we do not succeed in raising the full $7,500, we will have to make hard choices on what post-production elements we can use. Everything we raise will be used to improve the film, but obviously some of the elements we listed above might have to be cut if we do not raise enough. Christine's story is the star, but the more supporting elements we can bring to her, the better. Help us make that possible!


Other Ways You Can Help


If you aren't able to contribute monetarily, you can
share
this campaign with your friends; like our
Facebook page
; and consider
buying a ticket
to the Premiere on June 21st at the Capitol Theatre.
Exact Change is a sponsored project of Fractured Atlas, a non-profit arts service organization. Contributions for the charitable purposes of Exact Change must be made payable to "Fractured Atlas" only and are tax-deductible to the extent permitted by law.