REALLY REALLY
by Paul Downs Colaizzo


Nov. 30th - Dec. 9th
IATI THEATER, 64 E 4th St, New York, NY 10003


When morning-after gossip about privileged Davis and ambitious Leigh turns ugly, self-interest collides with the truth and the resulting storm of ambiguity makes it hard to discern just who's a victim, who's a predator, and who's a Future Leader of America. All that's certain is when the veneer of loyalty and friendship is stripped back, what's revealed is a vicious jungle of sexual politics, raw ambition, and class warfare where only the strong could possibly survive.
WHO WE ARE
Wrong House is a not-for-profit theatre and production company based in NYC. The creative team (Jessika McQueen, Adam Martin, Jack Creaghan, Alyssa Abraham, and Shannon McInally) met three years ago while studying at the Stella Adler Studio of Acting. Over time it became apparent that we all shared a desire for challenging, self-produced work. So here we are several years later - after many tears, a whole lotta sweat, and a few arguments - getting ready to finally launch our inaugural theatrical production, "Really Really," by Paul Downs Colaizzo here in NYC!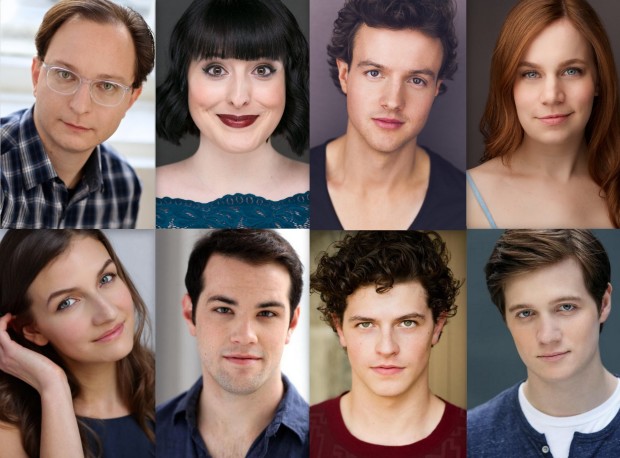 WHY THIS PLAY? WHY NOW?
As a company, our mission is to create easily accessible work in intimate urban spaces. Our goal is to spark laughter, outrage, and community-wide discourse on challenging ethical issues.
"Really Really" takes a deep dive into significant yet very sensitive social questions ranging from sexual assault to social class to (perhaps most importantly) white privilege. Some of these questions are currently being circulated en masse in the mainstream media; others, less so. If anything, the play is even more timely today than when it was first written. We know what happens when these issues get aired, but what happens if we don't know where to assign the blame?

From director Adam Martin on why this play needs to be performed today:
The line that separates a hero from a villain is becoming increasingly hazy in today's societal and political climate - and this is especially the case with a technology-driven generation, whose members often can hide behind the mask of social media. "Really Really" is necessary now because it rips away the masks of this "Me Generation", and explores how our actions (or, sometimes, our refusals to act) trigger a cascade of consequences. Colaizzo's play also explores white privilege and entitlement: What do these people "deserve"? Who gets to decide?
But to get this play back up in front of audiences, WE NEED YOUR HELP!


WHAT WE NEED
Our goal: $8,000


Theater rental: $4,400
Theatrical rights: $1,000
Designers: $1,000
Set, Costume & Prop: $1,000
Marketing: $400
Contingency: $200
THAT'S A LOT, YIKES!


But in addition to helping put this production in front of audiences, there's also...


THE PERKS!
A.K.A. The Sweet, Sweet Swag:


BUTTON $10 - $20:
Custom WRONG HOUSE button designed by Brooke Abraham, our company illustrator.

EVENT $20 - $50:
Free admission to a yet-unannounced Wrong House event in NYC this fall.
TOTE $50 - $100:
Custom WRONG HOUSE Tote Bag designed by Brooke.
TICKETS $100 - $300:
Complimentary pair of tickets to REALLY REALLY.
WINE & DINE $300 - $500:
Dinner with WRONG HOUSE! We take you out for a (semi) lavish meal in NYC.
PRODUCER $500 AND ABOVE:
You will be credited as a Producer for the production.
**AND EVERY DONOR WILL RECEIVE A SOCIAL MEDIA SHOUT-OUT & A SPECIAL THANK YOU IN OUR PROGRAM**


OH, DID WE MENTION THAT DONATIONS TO WRONG HOUSE ARE TAX-DEDUCTIBLE? THEY ARE!


OUR IMPACT
By supporting us, you are also supporting local New York artists and businesses. We can't afford to pay everyone involved in our production (we hope that comes later as Wrong House develops), but we are working with and providing income (however small) to several local sources in order to bring this production to life!
This is a wonderful opportunity to support a brand new theatre company at the ground level, and help us GROW! We have ambitions to expand into a multimedia company that produces film and web content, in addition to producing several live theatrical events per year. With your generous contribution, we can continue putting up work far beyond "Really Really," and every dollar moves us closer to not only producing these provocative productions but also to being in the wonderful position of being able to PAY the remarkable artists that we employ. It's only the beginning!
OUR CHALLENGES
Life as an artist can be...challenging. It is often very difficult to find work in our field, and we may never have a steady source of income. That means that when an opportunity arises to collaborate on a meaningful project like this, we take it, even though that means a lot of work for us. The entire production is self-produced by members of our team and a few very generous others. We are foregoing any income for ourselves in the interest of funding the best possible production. The cast has agreed to participate in this lengthy process without payment as well. We have thousands of our own dollars and thousands of hours already invested into this project, and no safety net. Fortunately, we are blessed with a very versatile and talented team, and one that's already accomplished in the art of Do-It-Yourself (living in NYC has a special way of doing that to a person). If we can make a buck stretch, we will. Got any great coupons we can use? LET US KNOW!
OTHER WAYS YOU CAN HELP
Can't donate monetarily? NO PROBLEM!


You can help support us by sharing this campaign, or spreading the word about us through our other social media platforms!
Thank you so much for your support, we could not do it without you! Stay tuned for upcoming Wrong House events and content!





Wrong House is a sponsored project of Fractured Atlas, a non-profit arts service organization. Contributions for the charitable purposes of Wrong House must be made payable to "Fractured Atlas" only and are tax-deductible to the extent permitted by law.


Rewards
Donate $50.00 or more
Amount over $10.00 is tax-deductible.
TOTE
For $50 - $100 donations, you receive a custom WRONG HOUSE TOTE BAG designed by company illustrator, Brooke Abraham.
Donate $10.00 or more
Amount over $2.00 is tax-deductible.
BUTTON
For $10 - $20 donations, you receive a custom WRONG HOUSE BUTTON designed by our company illustrator, Brooke Abraham.
Donate $20.00 or more
Amount over $5.00 is tax-deductible.
EVENT
For $20 - $50 donations, you receive free admission to a yet-unannounced WRONG HOUSE event in NYC this fall.
Donate $100.00 or more
Amount over $40.00 is tax-deductible.
TICKETS
For donations $100 - $300, you receive a pair of complimentary tickets to REALLY REALLY.
Donate $300.00 or more
Amount over $50.00 is tax-deductible.
WINE & DINE
For donations $300 - $500, let us take you out! The WRONG HOUSE team treats you to dinner in NYC.
Donate $500.00 or more
Amount is fully tax-deductible.
PRODUCER
For donations $500 and above, you receive credit as a PRODUCER for REALLY REALLY.
Donate $750.00 or more
Amount over $40.00 is tax-deductible.
Producer + Tickets
For donations between $750 and $1000, and you receive a credit as a PRODUCER of our inaugural show, REALLY REALLY, along with tickets to come and see it!
Donate $1000.00 or more
Amount over $107.00 is tax-deductible.
All of the Love We Can Throw at You!
All or any number of our available perks are available to you! That means you'll be listed as a PRODUCER of our inaugural show, REALLY REALLY, you'll get two tickets to the show, you'll get free admission to our WRONG HOUSE event this fall, dinner is on us, and a button and a tote bag are yours if you'd like em!